Pause, but don't stop
Pain, but don't give in
Laugh, but not out loud
Check your pulse, man
and your heart beat, beat, beat
Down, but not forgotten
Are you scared? You gonna give up?
(Not without a fight!)
Yea, they got you surrounded
Cause you don't know whatcha got when you got whatcha got
Running out of breath, baby
It's what you do to me, it's what you do to me
Pause, but don't stop
Wait, 'til it's your turn
There's a knock at the front gate
Bottle up the sweat, man, you know it isn't too late
To make your world glow inside out
And to tell them all you figured it out
Cause if you can't help but keep it turnin' around
Then don't stop do it, just do it
Running out of breath, baby
It's what you do to me, it's what you do to me
Words & Music by Chance
©2006 Upside Down Left Handed Music (BMI)
This song is one of the most frustrating I have ever written. It just took a long, great while for me to put it over the edge, you know?
It actually began quite a few months ago with the verse drum groove, bass line, and the intro keyboard part. That's it. That got me excited!
Then I started singing line after line after idea and got nothing.
So, I went through the vault and realized this one melody and lyric line I wrote as a joke over a friend's instrumental actually REALLY worked. That got me excited.
Until…
I couldn't come up with a chorus. Tried idea after chord after melody and just. got. nothing.
Until…
I went back to the vault and discovered that the chord change and chorus (of which I ALWAYS loved) from a very old song worked here. And, that got me excited.
Until…
The lyrics to each section were, initially, very different. It took months of me trying ideas, and putting it away; trying ideas and putting it away. I would question, debate with myself and at one point wondered whether it would ever work.
But, I wouldn't give up. I really liked the pieces and hoped the sum would be as gratifying.
Then, I started working on the bridge section and went for a very middle eastern trip. The first draft of it was twice as long, so it made it easy to trim the fat. I enjoyed the complete change of pace that I thought the guitar melody brought (originally written with me just whistling one day).
And then something clicked. Until now, the meaning of the song had eluded me. But, while laying down a part I realized something and wrote down on my lyric sheet, scribbling it quickly:
"THIS SONG IS ABOUT LIFE."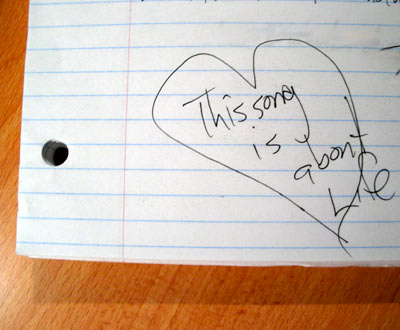 I circled it and kept working.
That's what made it work. "You" in the chorus is not about a girl; it's about life.
Musically, the completion of this song was finalized when, during that same bridge composing weekend, I played the chorus in the key of E and realized it would work at the end.
I was finally happy with the song. Well, you know as happy as I can get anyway.
Now, I bet some of you thought songs just dropped out of heaven, all wrapped in a bow and ready for mass consumption? Well, some do; I will admit that.
Just not this one. 😉
Recorded & mixed in Pro Tools LE Digi 002 on a Creation Station Pro DAW
Microphones:
All Vocals-AKG C-451
Guitars: Fender '57 Strat, through Amplitube LE
Piano: Kawai ES-X
Bass: Fender Jazz (el latino)
Drums: Propellerhead Reason 3.0
Synths & loops: Propellerhead Reason 3.0 & the FM7 (VST plugin)
Written, performed, recorded by Chance
Mixed by Jay Ruston
Cool Geekout Notes
*Bridge Section has the following instrument sounds:
Tambourine, Tympani, Oboe, Cello & Viola, String section,
and Sitar (through some seriously destructive distortion)
*Bridge guitar solo is direct input and distorted.
*The drum groove in the verses is a single, monophonic drum loop. The bass line was originally written with a stand up bass in mind, but I never could get a hold of one. Damnit.